SculpSure by Cynosure allows you to treat multiple problem areas in just 25 minutes – that's only half of your lunch break in Kernersville!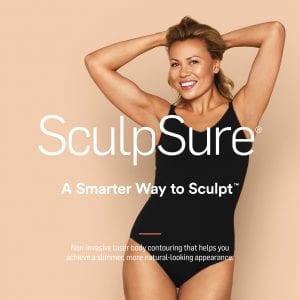 At Ageless in the Triad Med Spa, we love being able to offer our clients the option to improve the way they look and feel without long recovery periods after a major surgery. If you are looking for a new way to slim down or you have targeted areas that the gym just isn't helping, then you'll want to try SculpSure by Cynosure with us in Kernersville, North Carolina!
SculpSure by Cynosure is the world's first FDA-cleared laser treatment for non-invasive lipolysis of the flanks and abdomen. This treatment is ideal for patients looking to reduce stubborn belly fat, and you'll be able to treat multiple areas in only 25 minutes! This breakthrough laser therapy for body contouring will reduce fat in problem areas such as the abdomen and love handles.
How does SculpSure by Cynosure work? Using specific wavelength technology to heat and damage the structural integrity of fat cells in a targeted area, after one treatment and over the course of several weeks, the body naturally eliminates the disrupted fat cells. Many clients see results in as quickly as 6 weeks, but optimal results are usually seen in 12 weeks. There is no pain and no recovery time, so you can resume your daily activities immediately.*
At Ageless in the Triad Med Spa, we believe you should always be confident in the way you look and feel. By offering SculpSure by Cynosure, we can help you achieve this goal! Contact us today for more information about this unique body contouring solution and to schedule a consultation. We look forward to seeing you soon!
*Individual Results May Vary.