If you have ever shaved, waxed or plucked a hair, chances are very good that you have had an ingrown hair! When shaved, such as with a razor, some hairs will normally grow straight, while others will take a detour and start to grow in a curled, circular fashion just underneath the uppermost layers of skin. At Ageless in the Triad Med Spa, we want to help our clients treat and take care of ingrown hairs carefully, since they can sometimes become infected.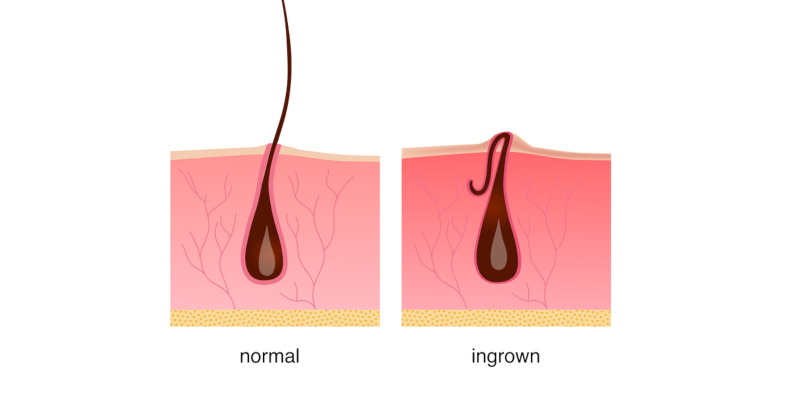 As always, the best course of treatment is prevention. Exfoliating 2-3 times/week before waxing or shaving (not immediately before) with an abrasive scrub that contains products like lactic acid, salicylic acid or glycolic acid can open up pores and removed dead layers of skin. This allows the hair to grow freely and without obstruction once it returns. Moisturization is also important and does not worsen the condition, like many people think. Instead, it soothes, softens and strengthens your skin.
What you do after waxing or shaving is also important in the prevention of ingrown hairs. Do not wear tight clothing on the area, since this can produce irritations. You should also avoid exfoliating for 3-5 days after your wax or shaving treatment. In the first 24 hours following waxing or shaving, you should try to avoid sweating and you should also use care with cleansing the area, using only gentle washcloths or hands to clean. Continue during this time to carefully moisturize the area.
If you do develop an ingrown hair, we here at Ageless in the Triad Med Spa carry Anthony's Ingrown Hair Treatment to help you take care of it. Formulated with glycolic acid, salicylic acid, and phytic acid to remove dead skin, fight bacteria, and free trapped hair, this treatment can provide great relief. Additionally, because the treatments have soothing willow herb and lavender, you don't need to worry about further irritating the skin. For more information about ingrown hairs, including prevention or how to treat them, please give us a call today.